Subscribe to our newsletter by clicking here.
IMPORTANT — There is a change of venue for the next Circuit Service on Sunday 6th February at 4 pm. This will now be at Woodley Methodist Church, Chapel St, Woodley, Stockport, SK6 1NF
Please ensure that any publicity/newsletters/websites etc. are changed accordingly.
*****This website will not be available from 21 to 25 February due to an upgrade.
Lent Course, exploring the hymn "And Can It Be"
Every Thursday from 10 March to April 7 at 7pm
Available online led by our ministers or as a booklet for use in small groups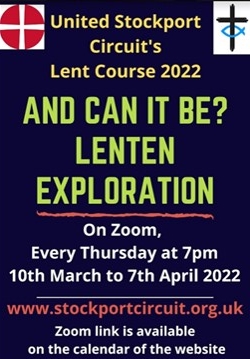 Lent and Easter Services
Ash Wednesday 2nd March
Heaton Moor United Church (Stanley Road, Heaton Moor, Stockport, SK4 4HL) at 10 am.
Circuit Service at Davenport Church (Garners Lane, Davenport, Stockport, SK3 8QS) at 7 pm.
Palm Sunday 10th April
Circuit Service in St. Peter's Square, Stockport Town Centre (St Petersgate, Stockport SK1 1NZ) at noon. More details to follow, including arrangements for transport and parking. ***There will be no services in local churches this Sunday.
Maundy Thursday 14th April
Afternoon Service at Davenport (Garners Lane, Davenport, Stockport, SK3 8QS) at 3.00pm
Tenebrae 'A Service of Shadows' at Dialstone Lane (161 Dialstone Lane, Offerton, Stockport, SK2 7LQ) at 7.30 pm
Good Friday 15th April
Morning Service at Davenport (Garners Lane, Davenport, Stockport, SK3 8QS) at 10:30 am
Reflections in word and music on the Last Words from the Cross at Hazel Grove (Wesley Street, Hazel Grove, Stockport, SK7 4JQ) at 12 noon — 3 pm (drop-in at any time)
Evening Service at Edgeley (Edgeley Road, Edgeley, Stockport, SK3 9NB) at 7 pm
Easter Day 17th April
An Easter Dawn Service at Dialstone Lane (161 Dialstone Lane, Offerton, Stockport, SK2 7LQ in the front garden) at 5.30 am
Followed by Easter breakfast (Covid permitting)