Subscribe to our newsletter by clicking here.
Join this Advent in reading the 24 chapters of the Gospel according to Luke in 24 days of December to find Jesus Christ on the Christmas Day. You can access the calendar by clicking here.
Our next Advent course is on 2nd December at 7pm on Zoom!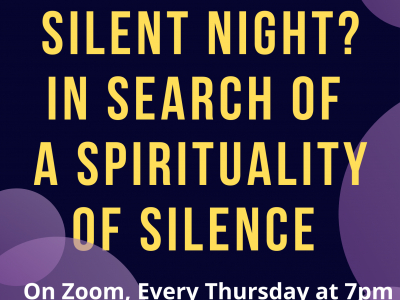 Join us on Zoom for the annual Circuit Advent course. This year's Theme is the Silence Night? In Search of the Spirituality of Silence.
It is on Every Thursday until 23 December. Please click on the event in the Circuit Calendar for details.
You can download the poster by clicking here.
You can download the course booklet by clicking here.
Join us for our Carols and Curry Service on Sunday 5th December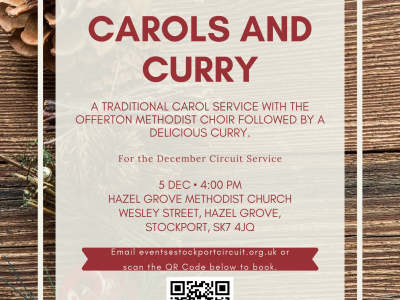 A traditional Carol Service with the Offerton Methodist Choir followed by a delicious Curry.
5 December at 4:00 pm
Hazel Grove Methodist Church
Wesley Street, Hazel Grove, Stockport, SK7 4JQ
Email events@stockportcircuit.org.uk or fill in a simple form by clicking here to RSVP. NOTE: You only need to book if you would like curry.
You can download the poster by clicking here.
Join us for Carols in the Car on 18th December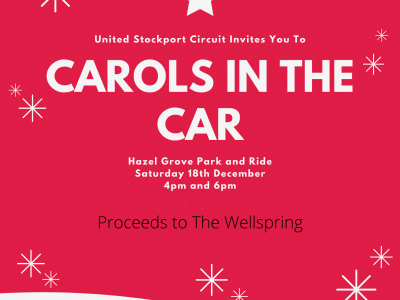 This was such a successful event last year that we have decided to put it on again this year! You won't be disappointed. All proceeds go to Wellspring so you are supporting a good cause as well.
Tickets are £6 each and can be purchased by clicking here.
Hazel Grove Park and Ride
Saturday 18th December
4pm and 6pm
You can download the poster by clicking here.
NOTE: You can just arrive without booking online but you might be turned away if the event is sold out.
Last year, some people had issues accessing their online tickets and didn't come. Please come! We have a list of everyone who purchased tickets online and you will be admitted even if you can't find your online ticket.
Christmas services
Please join us at one of our churches for a Christmas service!
Davenport Methodist Church
Garners Lane, Davenport, Stockport, SK3 8QS
Christmas Eve — 15:00 Christingle (Children's service) with Lindsay Kemp
Christmas Day — 9:30 service with Lindsay Kemp
Dialstone Lane Methodist Church
161 Dialstone Lane, Offerton, Stockport, SK2 7LQ
Christmas Eve — 18:00 Carols by Candle with Cathy Bird
Christmas Day — 11:15 service with Cathy Bird
Edgeley Community Church
Edgeley Road, Edgeley, Stockport, SK3 9NB
Christmas Eve — 11:00 Christingle (Children's service) with Lindsay Kemp
Christmas Day — 10:45 service with Lindsay Kemp
Hazel Grove Methodist Church
Wesley Street, Hazel Grove, Stockport, SK7 4JQ
Christmas Eve — 16:00 Christingle (Children's service) with Cathy Bird
Christmas Day — 9:45 service with Cathy Bird
Heaton Mersey Methodist Church
49 Cavendish Road, Heaton Mersey, Stockport, SK4 3DP
Christmas Day — 10:30 service with Raj Patta
Heaton Moor United Church
Stanley Road, Heaton Moor, Stockport, SK4 4HL
Christmas Day — 10:00 service with Carol Jack
Romiley Methodist Church
Hill Street, Romiley, SK6 3AA
Christmas Eve — 23:30 service (Holy Communion) with Katie Smith
Windlehurst Methodist Church
Windlehurst Road, High Lane, Stockport, SK6 8AF
Christmas Day — 9:00 service with Katie Smith
Woodley Methodist Church
Chapel St, Woodley, Stockport, SK6 1NF
Christmas Day — 10:30 service with Katie Smith