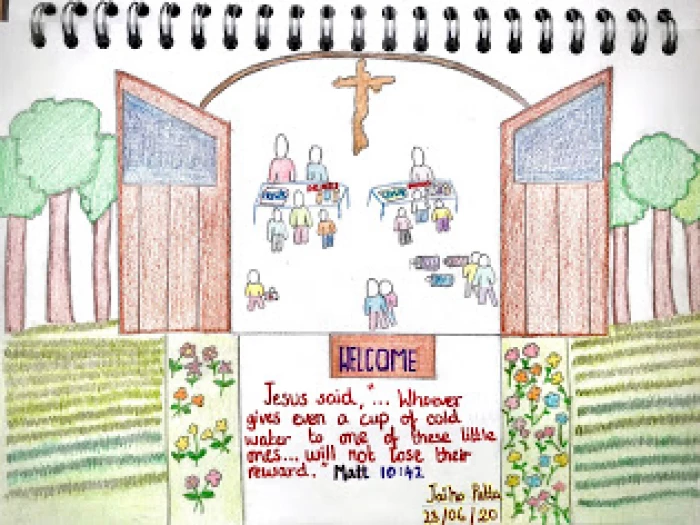 God whose gracious spark of divinity is present among all of the creation,
During these six months of lockdown,
You have never failed in your visitations to us and
pushed our boundaries to recognise you and your work
beyond the confines of our known horizons,
reminding us that you are always at work with us
in renewing and transforming this world.
You have come alive in acts of generosity
That we experienced in our neighbourhood,
You have come alive in our kitchens, dining rooms, gardens,
And in our homes, in our conversations with our family members
You have come alive in our virtual gatherings, online worships,
In our family and friends zoom meetings,
You have come alive when friends called one another
To console, to help with shopping, to support and to pray,
You have come alive by listening to the laments
Of those who lost their dear ones due to this virus
You have come alive in acts of sharing food
To families affected by holiday hunger
You have come alive in the acts of key workers
Who risked their own lives in an uninterrupted stream of care in order to keep others alive.
You have come alive in the attempts of the scientists
working tirelessly on the vaccine for this pandemic,
You have come alive in the acts of resistance for justice
By the Black Lives Matter movements and Climate Change activists,
You have come alive in the acts of resilience
In those who provided care and shelter to those people crossing the oceans as refugees
Living God, you are always present among us,
Weeping with us, laughing with us, walking with us and working with us
Help us to recognise that you are a 'God with us' and in you is our hope
As we return to our church buildings for worship,
Help us not to lose sight of what we have learned about our faith during this lockdown,
Help us to be channels of your love in our communities,
Transcending those walls, boundaries, positions and horizons, which we know restrict us.
for you O God cannot be contained and limited to any enclosed spaces and spheres.
Help us as churches to be open to all people in our public sphere,
Help us as churches to recognise that we are in partnership with you,
Rather you want to be in partnership with us in transforming our localities,
where justice, peace, equality and love
will flow to all the corners of our societies,
realising the Kingdom of God in our midst on our earth. Amen
@rajpatta, 11.09.2020