Webteam:
February 2021
FortyDaysOfFaith
This Lent, we want to share what our faith means to us with one another and with the world around us through social media. We'd love to hear about something that really helps you in your Christian journey, whether it's a favourite hymn or worship song, a particular bible reading, a place you find it easier to feel God's presence, a piece of music, a picture, or anything else.
We're hoping to put out a new post each day of Lent. If you'd like to be part of this, please email let us know what helps you and a little bit about why and then look out for #FortyDaysOfFaith on our social media feeds. An example of the type of thing we are looking for is below.
email admin@stockportcircuit.org.uk. Let us know if you are happy for us to use your name. It is no problem if you want to remain anonymous.
DAY 1 -17 Feb 21
From Maureen Jackson of Windlehurst Methodist Church
I first encountered Salvadore Dali's painting of the Christ of St John of the Cross in 1953, just two years after it was painted.
It was part of a school art exhibition. It instantly caught my attention and shortly afterwards I was able to buy a copy.
Since then it has nearly always had a place on my bedroom wall. It wasn't until nearly 40 years later that I realised that I used it as an icon: a religious symbol used to focus my thoughts and prayers. We are not 'hot' on icons in Methodism but this beautiful picture of Christ hovering above the world is very much part of my faith journey. It 'speaks' to me in ways I find difficult to describe.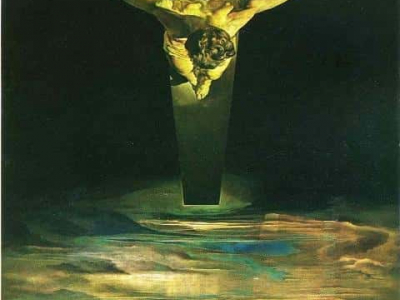 Day 2 — 18th Feb 21
From Angie Clark of Romiley Methodist Church
'First Sight' https://hellopoetry.com/poem/68923/first-sight/ is written by Philip Larkin and in contrast to his more famous cynical style is profoundly uplifting. The first verse describes how it must feel to be a new born lamb facing Winter's blast; 'all they see outside the fold is a wretched width of cold'. The second verse reassures us that it will not always be like this, that earth has an immeasurable surprise waiting with a promise of something utterly unlike the snow. I have always related to these words, partially because I grew up on a farm and experienced plenty of tiny lambs suffering from exposure being coaxed back into life within the warmth of our kitchen. I have also felt it describes feelings of grief and depression, when we are helpless in our difficulties. Now we are all struggling with yet another lockdown I can relate to the words more than ever. Like earth's immeasurable surprise God's grace is there around us, waiting; we do not deserve it yet still it reveals its wonder. Philip Larkin was an atheist so I'm guessing that the religious meaning in this poem happened by co-incidence — or maybe Godincidence, God's grace hidden within him revealing itself in his words.
Philip Larkin, "First Sight"
Lambs that learn to walk in snow
When their bleating clouds the air
Meet a vast unwelcome, know
Nothing but a sunless glare.
Newly stumbling to and fro
All they find, outside the fold,
Is a wretched width of cold.
As they wait beside the ewe,
Her fleeces wetly caked, there lies
Hidden round them, waiting too,
Earth's immeasurable surprise.
They could not grasp it if they knew,
What so soon will wake and grow
Utterly unlike the snow.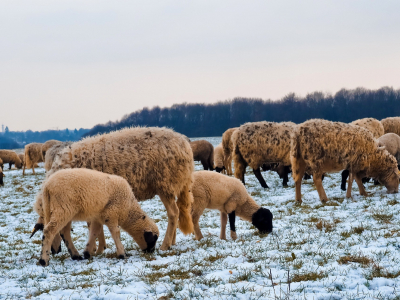 Day 3 — 19th Feb 21
From Phil Taylor of Woodley Methodist Church
https://youtu.be/aNz-33V1V8A
This is a popular upbeat modern version of a classic hymn.The tune called "Hatherop Castle" by Geoffrey Beaumont To me the words says it all "O Jesus I have promised to serve thee to the end for thou wilt ever be near me, The words throughout the hymn mean something to me and it is a hymn I would probably choose to have at my funeral.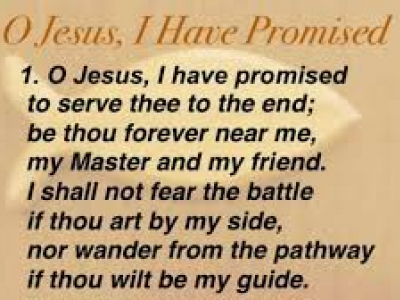 Day 4 — 20 Feb 2021
From Sue Shillito of St John's
One of my favourite Bible readings is John Chapter 1 verses 1-18
I have quoted the NIV and Good news Bibles
V 1-3 In the beginning was the word and the word was with God and the word was God. Through him all things were made
These verses tell us Jesus was there at the beginning; he was there with God, that through him and for him all things were made. Creation is nothing less than amazing, when I think of all the plants, insects, animals etc I am in wonder of it all and that God, through Jesus, loves and cares for each and every one of us.
Verses 4 and 5 tells us; The word, Jesus, was the source of life, the light of men, that the light shines in the darkness.
In the NIV the words are
The light shines in the darkness, but the darkness has not understood it.
The Good News Bible translates as,
The light shines in the darkness, and the darkness has never put it out.
Through these times of the pandemic we perhaps feel we are in dark times. The difficulty of living in isolation from one another, those who grieve for lost loved ones. Those who have no jobs, lost their business, or on a lower income. The world is upside down and longing for light.
Verses 4&5 tell me that the light of Jesus is still and ever will be there for us. Though there are those who don't, can't, understand our faith, the darkness of this world cannot put the light of Jesus out.
Verse 12 to those who believed in his name he gave the right to become children of God
Verse 16 From the fullness of his grace we have all received one blessing after another
Verse 18 No one has ever seen God, but God the one and only, who is at the Father's side, has made him known.
Good News reads;- No one has ever seen God. The only Son, who is the same as God and is at the Father's side, he has made him known.
I find all these verses very encouraging. To be a part of God's family, a child of God, to be a part of the Trinity of God, God the Father, God the Son and God the Spirit. To know the blessings of God in my life. To daily thank God for his goodness, even in difficult times.
I feel the love of God through this passage, The love and grace of Jesus, coming into the world willing to be a sacrifice for our sinfulness, willing to bring us back into the family of God.
I would say for now at this time, the verse that speaks out loud to me is
The light shines in the darkness, and the darkness has never put it out.
Thanks be to God, Amen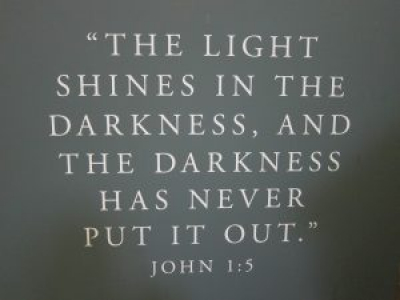 Day 5 — 22 Feb 2021
From Betty Allport — Heaton Moor United Church
I love being by ,in or on the water where I feel particularly close to God. All sorts of water — river, canal, waterfall, lake but particularly by the sea .
Water is so unpredictable and touches all my emotions .
I feel Gods presence in the calm still water of a canal, so close to creation .
But the Power and excitement of God is felt in the strength and turbulence of crashing waves and huge white rollers. All life's moods are expressed by the sea.
No doubt who is our Creator.
Even the winds and waves obey Him.
I feel exhilarated and renewed.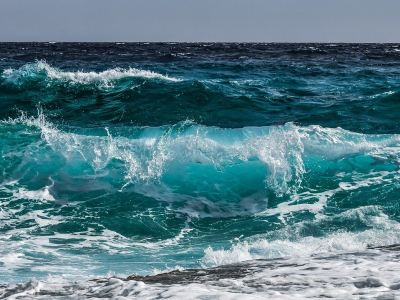 Day 6 — 23 Feb 2021
From Sue Skidmore of Woodley Methodist Church.
The Prayer by Josh Groban and Charlotte Church — It is a beautiful song which speaks to me of God always being present in my life through good times and bad and that I only have to turn to him for his guidance and care.
https://www.youtube.com/watch?v=zCzLU8gnWAQ&feature=emb_logo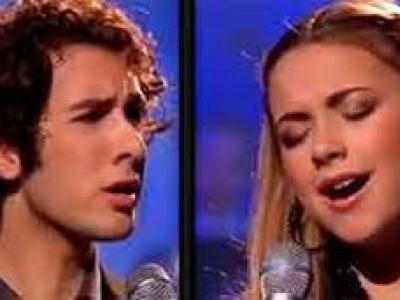 Day 7 — 24 Feb 2021
From Val Rowlands of Windlehurst Methodist Church
Will your Anchor Hold in the Storms of Life? Singing the Faith 645
My maternal grandfather was a sea Captain sailing, under sail and then by steam, from Liverpool to China. He died when I was five but I remember him as a formidable man singing this at the top of his voice. As children my Mum and her sister had to sing it to him, word perfect, every time he came home on leave. It has always been a favourite hymn in our family, we sang it at my Mum's funeral and also at her sisters. Both services were at Windlehurst M.C. Personally Bernie and I have found the words a huge comfort and affirmation in times of great anxiety.
https://www.youtube.com/watch?v=PTfypuXwrMA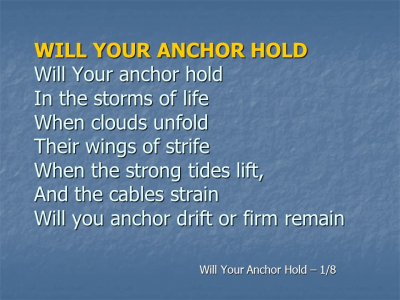 Day 8 — 25 Feb 2021
From Carol Jack of Heaton Moor United Church
Zephaniah 3:17 reminds me of the precious times when I held each of my 5 babies in my arms and sang to them.
"The Lord your God is with you,
the Mighty Warrior who saves.
He will take great delight in you;
in his love he will no longer rebuke you,
but will rejoice over you with singing."
I love to think of God holding us in his arms and delighting in us in the same way.
Day 9 — 26 Feb 2021
From Andy Stoker of Dialstone Lane Methodist church
I am helped to explore my faith by art. I have little technical appreciation of art and my knowledge of its history is patchy at best — yet exploring a piece of art — sometimes with the help of a commentary, can help. I get a free email each day from https://www.christian.art/index.php which includes the lectionary Bible reading and an associated artwork, together with some notes. For example, a recent post introduced me to "Prayer before the Meal" by Vincent van Gogh — which shows a solitary old man praying before his meal. The notes remind us that creative ideas can sometimes come from times of withdrawal and contemplation. There is hope in a time of pandemic.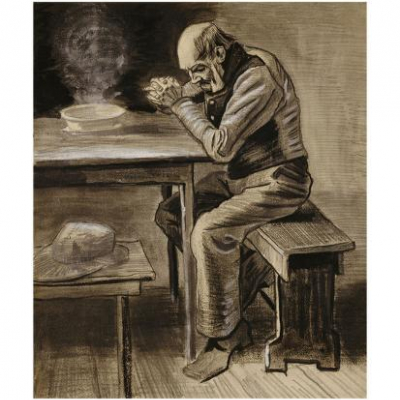 You may also be interested in