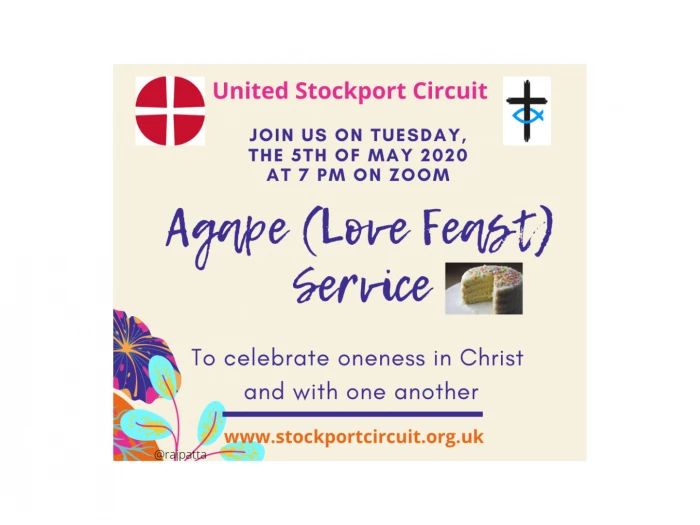 Agape (Love Feast) Service Tuesday May 5th 7pm
As we are currently unable to share Holy Communion together, the ministers will be leading a special Agape, or Love Feast Service on Tuesday 5th May at 7pm. The Agape is a Christian fellowship meal recalling the meals Jesus shared with disciples during his ministry.The service expresses the joy of sharing, belonging and fellowship enjoyed within the body of Christ. If you wish to take part in the service you are invited to have with you a cake, or bread to eat and something to drink. If you wish, you can bake a special Agape Cake! You might like to make Agape Cup Cakes, or a large cake which can be sliced, and leave some on the doorstep of someone who will be taking part in the service but who may not be able to bake. Here is the recipe.
A traditional Love Feast Cake Recipe Adapted from the Middlesmoor Lovefeast Bread used in the Yorkshire Dales at the time of John Wesley
1lb (400g) plain flour
1oz (25g) baking powder
5oz (125g) butter
8oz (200g) sugar
2oz (50g) mixed peel
4oz (100g) sultanas
2 eggs
About half a pint (280ml) of milk
Mix the flour and baking powder together, rub in the butter, then add the sugar, sultanas and peel. Beat the eggs together with a little milk and add to the dry ingredients. Add the rest of the milk to make a soft consistency. Pour the mixture into two loaf tins or a large cake tin. Cook at 180°C (350°F) or gas mark 4 for at least 45 minutes for the loaf tins, or 1 hour for the large cake tin.
Zoom details for the service are as follows:
Agape Service May 5th 7pm
https://us02web.zoom.us/j/87046375613?pwd=S1Vkd0FmZUZEZHZhWkUrbjJMZ3JEUT09
Meeting ID: 870 4637 5613 Password: 002488
Joining by telephone
Step 1)
Dial any of the following numbers. If one doesn't work try another and another until you are able to connect:
0330 088 5830
0131 460 1196
0203 481 5237
0203 481 5240
0208 080 6591
0208 080 6592
Step 2)
Follow the prompts you hear on the phone.
You may be prompted to enter 3 different things:
1 -- Meeting ID 870 4637 5613 followed by "Hash" -- on your phone keypad #
2 -- Password 002488 followed by "Hash" -- on your phone keypad #
3 -- Participants ID -- You will not have one of these, don't worry, all you need to do is enter "Hash"#
You should then be entered into the service.